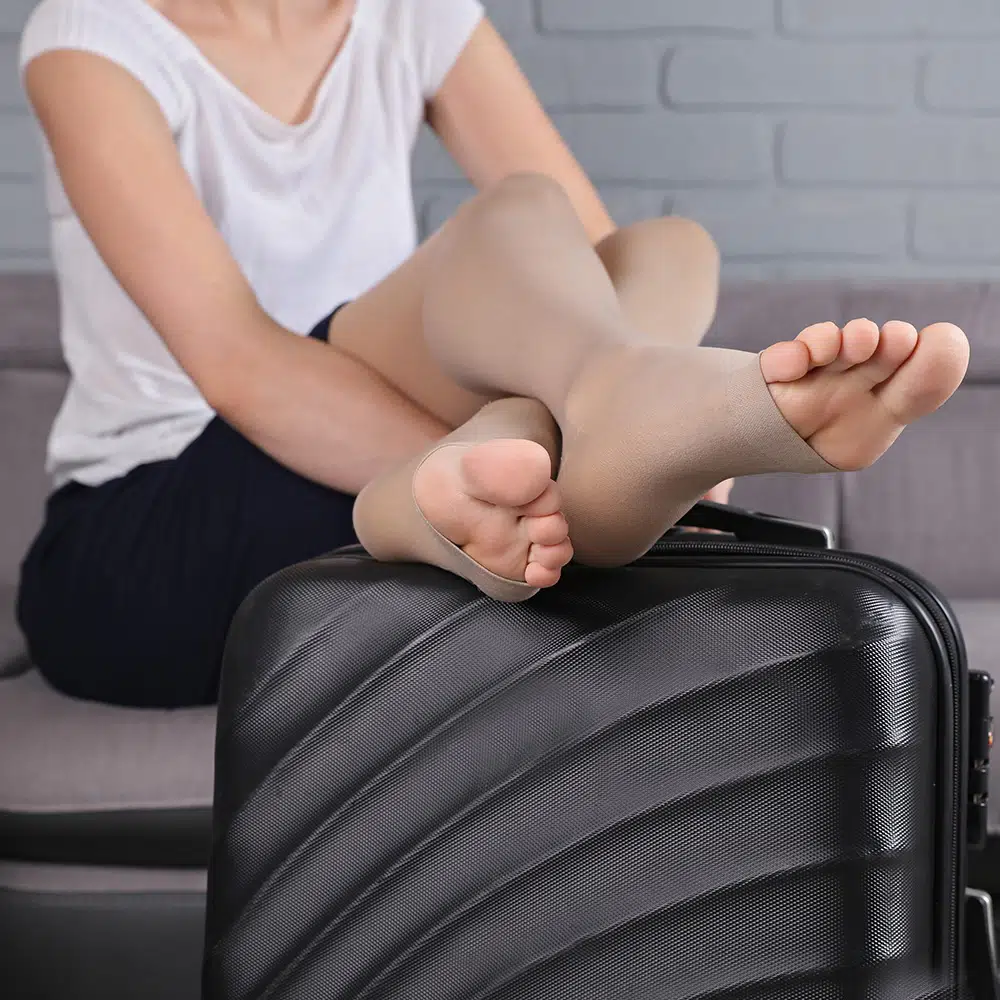 We are a proven US based source for this FDA registered Class II medical device. Our Anti-Embolism Stockings are manufactured under the strict guidelines of our ISO 13485 certification. We can customize your packaging to include your unique branding and the products will arrive ready to be dispensed by health care professionals.
Product Information

Improve blood flow velocity
Physician recommended to reduce the risk of deep vein thrombosis (DVT), especially for the non-ambulatory patient.

Style

Description

mmHg

Sizes

Colors

88284
Anti-Embolism Knee High, Inspection Toe
18
S, M, L, XL, XXL
Reg. & Long
White
18284
Anti-Embolism Thigh High, Inspection Toe
18
S, M, L, XL, XXL
Short, Reg. & Long
White
Anti-Embolism Stocking Size - Thigh High
Ankle Cir.

Calf Cir.

Thigh Cir.

Length

Size

Size Color Code (Toe)

Length Color Code (Top)

7"-7.75"
(17.8-19.7 cm)
To 12.5"
(31.8 cm)
17.5"-25"
(44.5-63.5 cm )
To 29" (73.7 cm)
29"-31" (73.7-78.7 cm)
Over 31" (78.7 cm)
Small-Short
Small-Regular
Small-Long
Yellow
Yellow
Yellow
Yellow
Natural
Blue
8"-8.75"
(20.3-22.2 cm)
12.5"-14.5"
(31.8-36. cm)
21"-28"
(53.3-71.1 cm)
To 29" (73.7 cm)
29"- 31" (73.7 -78.7 cm)
Over 31" (78.7 cm)
Medium-Short
Medium-Regular
Medium-Long
Natural
Natural
Natural
Yellow
Natural
Blue
9"-9.75"
(22.9-24.8 cm)
14.5"-16.5"
(36.8-41.9 cm)
24"-31.5"
(61-80 cm)
To 29" (73.7 cm)
29"-31" (73.7-78.7 cm)
Over 31" (78.7 cm)
Large-Short Blue
Large-Regular Blue
Large-Long
Blue
Blue
Blue
Yellow
Natural
Blue
10"-10.75"
(25.4-27.3 cm)
16.5"-18.5"
(41.9-47 cm)
27.5"-33"
(69.9-83.8 cm)
To 31" (78.7 cm)
Over 31" (78.7 cm)
Extra Large-Regular
Extra Large-Long
Green
Green
Natural
Blue
29"-34.5"
(73.7-87.6 cm)
Over 31"
(78.7 cm)
XX Large Regular/Lg
Purple
Anti-Embolism Stocking Size - Knee High
Ankle Cir.

Calf Cir.

Length

Size

Size Color Code (Toe)

Length Color Code (Top)

7"-7.75"
(17.8-19.7 cm)
To 12.5"
(31.8 cm)
To 16" (40.7 cm)
Over 16" (40.7 cm)
To 29" (73.7 cm)
Small-Regular
Small-Long
Yellow
Yellow
Natural
Blue
8"-8.75"
(20.3-22.2 cm)
12.5"-14.5"
(31.8-36. cm)
To 17" (43.2 cm)
Over 17" (43.2 cm)
Medium-Regular
Medium-Long
Natural
Natural
Natural
Blue
9"-9.75"
(22.9-24.8 cm)
14.5"-16.5"
(36.8-41.9 cm)
To 18" (45.7 cm)
Over 18" (45.7 cm)
Large-Regular
Large-Long
Blue
Blue
Natural
Blue
10"-10.75"
(25.4-27.3 cm)
16.5"-18.5"
(41.9-47 cm)
To 18" (45.7 cm)
Over 18" (45.7 cm)
Extra Large-Regular
Extra Large-Long
Green
Green
Natural
Blue
11"-12"
(27.9-30.5 cm)
18.5"-20.5"
(47-52.1 cm)
To 18" (45.7 cm)
Over 18 (45.7 cm)
XX Large-Regular
XX Large-Long
Purple
Purple
Natural
Blue